We offer sales, installation, and custom work for almost all flooring types including carpet,  vinyl, laminate, vinyl-tile,  custom area rugs, and more. Large Selection of Cash-And-Carry Carpeting! Installation too.
The only thing more attractive than the style of today's vinyl is its price, particularly the price you'll find at Affordable Flooring & Furniture – Cadillac! Northern Michigan Best Choice in Flooring and Furniture.
For durability that can't be beat at a price that you'll love, laminate is the flooring for you. With so many style options available, you're sure to find just the right finish for your home. Affordable Flooring & Furniture Cadillac, Michigan.
Refresh your home on a budget with the Affordable Flooring furniture department! Blend furniture styles to create a unique look with a mix of modern furniture and traditional pieces for all rooms of your home.
Affordable Flooring
&

Furniture – Cadillac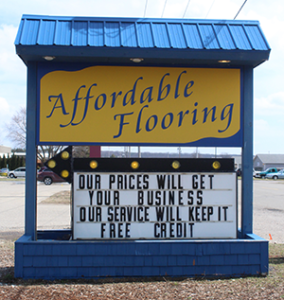 For over 20 years at Cadillac Flooring & Furniture, we've provided residential and commercial carpet sales and installation of carpet flooring, tile flooring, vinyl flooring, and laminate flooring. A lifetime of service oriented sales has made Cadillac Flooring & Furniture your number one choice of flooring in Northern Michigan and the greater Cadillac area. Come see our large selection of in-stock carpet, rugs, vinyls and laminate flooring options or see our huge selection of products we can custom order for you.
We not only specialize in carpet, vinyl, and laminate flooring but we have a large selection of quality built furniture on our showroom and available to order. If you need unique, quality built, affordable furniture be sure to contact us at Affordable Flooring of Cadillac Michigan.
Affordable Flooring
&

Furniture